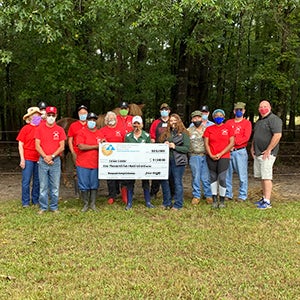 The Calvin Center received a grant for $1,500 from the Central Georgia EMC Foundation to fund therapeutic riding scholarships. The Calvin Center, located in Henry County, is home to 14 therapy horses and two barn cats.
The Calvin Center provides children and adults with developmental, physical, and learning disabilities opportunities to gain equestrian experience. Through their interaction with trained horses, these individuals hone social skills, motor skills, and sequencing skills. The riders gain self-esteem and build confidence.
The Center also hosts dedicated community-focused organizations, such as Horses and Warriors. Horses and Warriors is a military-focused organization that regularly meets at the Calvin Center. Through horse care, volunteerism, and riding, active-duty military and veterans work together in a nurturing and healing environment.