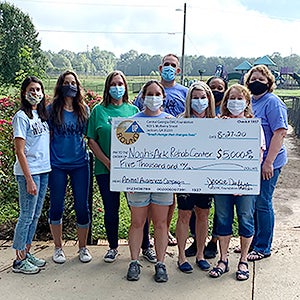 Noah's Ark Animal Sanctuary received a grant for $5,000 from the Central Georgia EMC Foundation to install educational signage for their Animal Awareness Campaign.
This innovative campaign will educate visitors about the importance of environmental stewardship and responsible pet ownership by providing comprehensive explanations of the animals, how they came to Noah's Ark, and information about their species in the wild.
The signs will include a variety of scavenger hunts for use during self-guided tours. Educators will also have access to signage-associated curriculum, created with Georgia State and Next Generation Science standards, including worksheets, field trip materials, and exclusive behind-the-scenes video content.
The average Operation Round Up participant's donation is fifty cents per month, but that "change" adds up to makes a big difference in local communities.